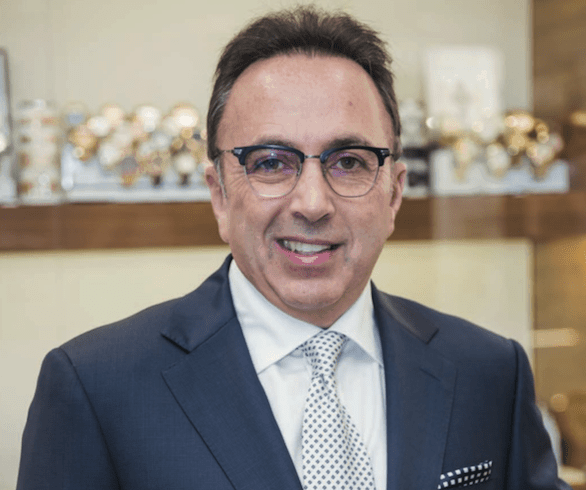 How Bogart's Jewellers earned—and sustained—its place in the limelight
by Corrina Mosca
TALL, DARK, AND DEVASTATINGLY HANDSOME, Humphrey Bogart instantly captivated viewers of the 1942 film, Casablanca. When coupled with his strong character, trademark swagger, and slick acting skills, Bogart's talents made the movie an instant classic.
This sense of timelessness also permeates his namesake jewellery chain, Bogart's Jewellers. After watching Casablanca, founder Richard Rooney was struck with inspiration—he wanted to create a business whose legacy was as enduring as the actor's. He certainly found success: opened in 1992, this retailer has undoubtedly put itself on the map as one of Canada's lasting hits.
The camera's rolling
While Rooney's foray into the jewellery business began in the late 1970s, his love for the trade was sparked early in life. "I've always loved jewellery," he admits. "As a teenager, I bought my first Cartier 'Tank' watch—it was there that my real appreciation for the craft began."
As Rooney grew older, his passion for jewellery slowly edged its way into the spotlight—however, it wasn't until 1979 that this love affair reached its paramount. At this time, a newly-graduated and fresh-faced Rooney moved to Newfoundland, where he took up a sales job with Wenger Watch
Company. There, he made his debut selling Cardinal and Swank watches, and acted as a brand rep for Spiedel, Shaeffer, Majorca pearls and Carmen Jewellery.
Rooney's passion for his products, care for his clients, and skills in sales made him a quick success: by the mid-1980s, he was able to start his own wholesale business, Atlantic Jewellers.
It is here that Bogart's story begins. Whilst working in wholesale, one of Rooney's suppliers mentioned that O.B. Allan, a jewellery retail chain, was closing its doors. Always the entrepreneur, Rooney saw an immense opportunity: with little haste, he purchased one of the dying business's locations in Newfoundland's Avalon mall. Armed only with his knowledge of the industry, love for the business, and determination, Rooney took the plunge into retail—something that he admits wasn't exactly easy.
"In that situation, retail was an entirely new experience for me," Rooney recalls. "I loved wholesale, and I thoroughly enjoyed working with my clients. Turning my focus elsewhere was a big decision."
Twenty-five years later, it's clear that Rooney's choice was well-made: what started as a fledgling one-store operation has blossomed into a well-respected, multi-store chain.
Play it again, Sam
Today, Bogart's is one of Atlantic Canada's jewellery superstars. As of this year, Rooney will be overseeing the management of one Bogart's location in Nova Scotia and eight across Newfoundland, with the newest one opening in April of 2017.
This colossal growth and undeniable success boil down to one core tenet—putting the client first, always. While one might assume that servicing consumers came naturally to Rooney, he cites it as one of his biggest hurdles in acclimating to the retail business. "Working with fellow members of the industry in the wholesale business was one thing," he explains. "Selling to the public is an entirely different ballgame."
Consumers, Rooney found, were much more discerning than wholesale clients. With a wide variety of retailers available to satisfy their needs, Bogart's needed to set itself apart as their number one option. To do this, Rooney found it necessary to create personal, unique relationships with each of his customers.
"I learned that in order for our business to succeed, we had to make our clients feel comfortable and valued," explains Rooney. The best way to achieve this? "Small talk. We do this well; we really work to create connections with our clients. By getting to know them, we are able to form a sense of trust."
That being said, this trust doesn't only come from pleasant conversation—it stems from the industry knowledge and expertise displayed by each member of the Bogart's staff. To accomplish this, Rooney has enrolled all of his store managers in GIA's Diamond Essentials course, giving them the proficiency required to drive sales. This information is passed down to store employees, ensuring that a general knowledge of the industry is shared at all levels of the business.
"It is crucial for my employees to be informed and actively engaged in the trade," explains Rooney. "I want my staff to be memorable—I want them to be strong leaders in the industry."
Despite this, staff aren't hired based on their pre-existing knowledge of the industry. Primarily, Bogart's employees are chosen for their confident, optimistic, and progressive attitudes and passion for jewellery.
"I don't focus on past experience: I am open to training new and eager employees," Rooney divulges. "Our recruitment criteria are based on the ability to provide top-tier customer service."
A beautiful friendship
This willingness to go above and beyond for the client is apparent in every aspect of Bogart's business, from its interactions with the public to its inventory. While Rooney does take trends into account when selecting stock, he understands that his best bet for success is to know his market's needs inside and out.
"At Bogart's, we've never underestimated the power of simply listening to our customers," he says. For this Atlantic Canada-based business, this means one thing: offering affordable luxury.
"Our market is definitely challenging," explains Rooney. "Our clients are in the oil business, and with a downturn in oil has come a downturn in high-end sales. As a result, our clients want lower price points."
Rooney adds that his customers are extremely brand-driven, as well. To cater to this money-wise, generic market, Bogart's stocks a variety of widely known, middle-end brands like Pandora, Swarovski, Kameleon, Michael Kors, Fossil and Guess. The retailer also ensures that its display cases are well-stocked at all times, and that top-selling items are re-ordered often.
"I am known for reacting very quickly to customer needs, which is a real success in my eyes," Rooney adds. "My showcases are constantly replenished with items that sell, and that people are looking for. We review our cases on a weekly basis, changing them regularly to display what's new and what's selling."
The usual suspects
There's one brand of consumer, however, that won't seem to bite: younger Millennials.
"They're driven by technology," laments Rooney. "Instead of buying jewellery, they're buying cell phones, wearables, and tablets. I want to take them away from that."
In a bid to cater to this selective market—and boost advertising efforts in general—Bogart's has increased its presence on social media. This means interacting with younger clients across all digital platforms—especially Instagram and Facebook. There, the team shares product images, inspirational posts, contests, and other promotional content with its loyal followers.
While Rooney appreciates this modern facet of the business, he identifies as resolutely "old school" in his approach to selling.
"For me, it's all about presentation and location," he explains. "When you go into a store, are greeted by friendly sales staff, and can see and touch the product, it's a much more memorable experience. That physicality, that personal interaction, is what really drives sales."
When combined with modern strategy, this traditional outlook will secure Bogart's success moving forward. However, with years of vast expansion behind him, Rooney is looking to enjoy the fruits of his labour—at least for the next little while.
"Right now, I'm just looking to maintain the business," he says. "This year, I plan on managing my staff well, and managing my inventory well, because I know that this is going to be another challenging year with the economy."
One thing's for certain: with the passion, care, and undeniable skill behind its operations, this business is sure to uphold its powerhouse status.
Here's looking at you, Bogart's. CJ